Services
Service Department
To Request a Service Call:
Contact 302-703-1880 or email office@delawarecrawlspacecompany.com
Standard Service Calls – $225.00
Any service call that can be scheduled within the DCSC weekly schedule (non-emergency). An average service should be completed within 30 minutes. Please note that anything more than 30 minutes is an additional $95.00 per hour. Invoicing will be sent via email after the service is completed.
(If you are a member of our annual maintenance program the service call fee is discounted to $175.00.  To sign up for our annual maintenance program click here.)
Emergency Calls – $345.00
Any Service Call that is deemed Emergency requires a specific appointment time and date and is after working hours 8am-4pm Monday thru Friday or weekends. Please note that anything more than 60 minutes is an additional $95.00 per hour. Invoicing is due immediately upon completion of the emergency service call.
Aprilaire Warranty Replacement fee – $500.00
Any service call related to replacing a Aprilaire warrantied dehumidifier, this service includes discarding the existing dehumidifier, installing the new and coordinating all warranty related paperwork.
Our Service Menu
Installation and Service of Aprilaire Dehumidifiers.
Installation of Closed Cell Foam to the band and block
Crawl Space Encapsulation.
Crawlspace Lighting for access and future storage.
Custom Galvanized Access Wells and Covers.
Dryer Vent Ducting.
Epoxy Injections for Foundation/Wall Cracks – We proudly partner with the best in the business, Leak Stoppers, to bring you the best service!
French Drain(s) Installation.
Guardian Liner Install (our standard is 12 mil but we offer 6 and 20 mil for specific jobs).
Gutter Diverter Installation.
HVAC Supply Air Inducer Installation.
Mold Remediation
Smart Vents
Structural Repairs and support to I-Joists / Beams.
Sump Pump Services include installation and premium water alarms with text messaging notification.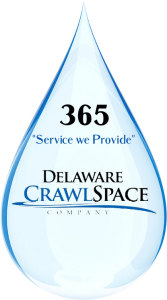 DCSC 365 is an annual inspection we offer to Delaware Crawl Space Company clients. Let's face it, the crawl space is the least visited area within your house but it is also the most important when it comes to healthy living within your home.
If you are signed up with DCSC 365, you will be assigned to quarter(s) 1,2,3 or 4 and an inspection will be completed once per year. A service sticker with the date of service, humidity and temperature readings will be recorded as well as on a door hanger left on the front door of your home. We also offer a wireless digital hygrometer that can be installed in any room of the house. This device displays the temperature and humidity within crawl space. We tell clients they can monitor their crawlspace and when the humidity percentage increases 60% or more, to give us a call! This feature helps you know when there is a problem but all you have to do is call us. No need to enter the crawlspace, that's what we're here for!
Check-list for annual maintenance check-up
Sump Pump & Condensation Pump Inspection
Water Alarm Inspection and test, water alarm and hygrometer batter change.
Dehumidifier Filter Change.
Dehumidifier Humidity and Temperature Readings.
Inspect Entire Crawlspace for tape and liner defects.
**If the homeowner would like to be present during the annual inspection, you must email us (1) month prior to the dates listed on your annual maintenance contract.**
To sign up for our DCSC 365 Program please click here.
Payment Options: We accept
The invoice for the annual maintenance work will be sent by email to customer annually, to be paid, after work has been completed. Credit card payments are available per request and a 3% credit card fee is added. All emergency service work will require a payment immediately before, onsite, or immediately after the work has been completed. All standard service calls will be invoiced via email and sent after the work has been completed.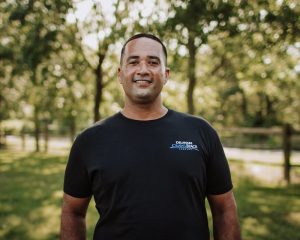 Chris McNamire – Service Manager
Chris is our Service manager and has been with us for over 5 years. Chris is responsible for all standard and emergency service calls along with all of the annual inspections. He can always be seen with a smile and is a man of many "hats" because of his talents ranging from crawlspace installations and construction.
All DCSC workmanship is covered for the first year by Delaware Crawlspace Company.
If you enjoyed your service and or install with us please LEAVE A REVIEW
Service Request Form
Thank you for your submission.