Aprilaire Dehumidifier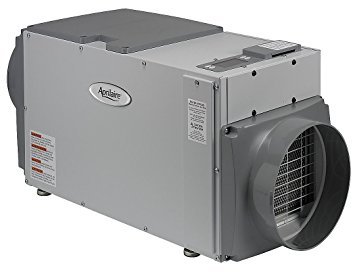 The cutting edge Aprilaire Dehumidifier is a true work horse that is engineered to keep your crawl space or basement dry, odor free, healthy and properly maintained for many years to come. The Aprilaire 95 pint capacity dehumidifier is an innovative crawl space dehumidification system that will maximize energy efficiency and effectively operate down to low temperatures of 40°F. Its compact low clearance design is small enough to fit in low ceiling crawl spaces, yet its 265CFM fan motor is powerful enough to quickly dry a full size crawl space. The Aprilaire Dehumidifier is equipped with a Merv-8 filtration system for filtering dust mite waste, mold and other allergens as small as two microns. We install our dehumidifiers on corrosion resistant 8 inch adjustable feet that has a solid PVC drain port to distribute water to sump pump. The average annual operating cost $116/year.
Our Aprilaire Dehumidifier comes with a five-year warranty on entire unit. Delaware Crawl Space Company warranties all materials and products for one year. An optional Model 76 touch screen display screen can be direct wired from your crawl space into home, to allow adjusting of RH% settings and for viewing humidity readings in crawl space. The dehumidifier will turn on its blower every hour to circulate and measure the RH% of the crawl space air. If the relative humidity of the air entering the dehumidifier is higher then the setting, the dehumidifier compressor will then turn on to remove moisture.
The AccuRite wireless weather station installed in conjunction with Aprilaire Dehumidifier, monitors the humidity and temperature in crawl space and viewed with illuminated color display screen. Optional AcuRite Bridge System can monitor readings with email and text alerts and can be viewed from on screen display or cell phone.
Give us a call today! 302-703-1880